Niagara Half Marathon
October 23, 2006, 1:30 pm
Filed under:
general
I joined just under 800 runners in the rain yesterday morning to run the Niagara Falls half marathon. It's a beautiful flat run along the river with a finish line just at the cusp of the falls. A truly beautiful setting. As many of you will be happy to know, I did complete the race and as a select few of you will be very happy to know (Amy & Charlie), I reached my goal of under two hours with a chip time of 1:58:03!
What was extra special about the run was that I managed to see my husband and mom and step-father as I crossed the finish line – something that never usually happens. My Mama and her David drove an hour from Burlington to watch the finish and take some photos and, of course, provide us with some much needed egg salad sandwiches for the immediate drive home. So nummers!!
As for the city of Niagara Falls, all I can say is that it's really too bad the city decided to just let big companies build big hotels and casinos wherever they damn well pleased instead of hiring an urban planner to organize the growth. It's a completely pedestrian unfriendly space despite its small size. To add further insult to injury, there are no decent restaurants and instead the choices are Kelsey's, Applebee's, and so on. You get the picture, and the picture ain't pretty.
Good thing I, unlike most people, thoroughly enjoyed the tackiness of "old" Niagara Falls. At least it has a coherently fun message in a useable space! We hit the haunted house for a little thrill and were told that for our $10 entry fee (each), we would enjoy 10-15 minutes of fun little scares… and 45 seconds later, we emerged back into the street. Oh well.
That's really the story of Niagara I think – as my dear friend Debbie would say:
All show, no go.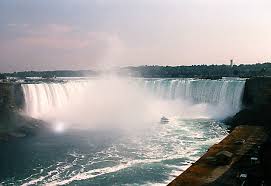 4 Comments so far
Leave a comment